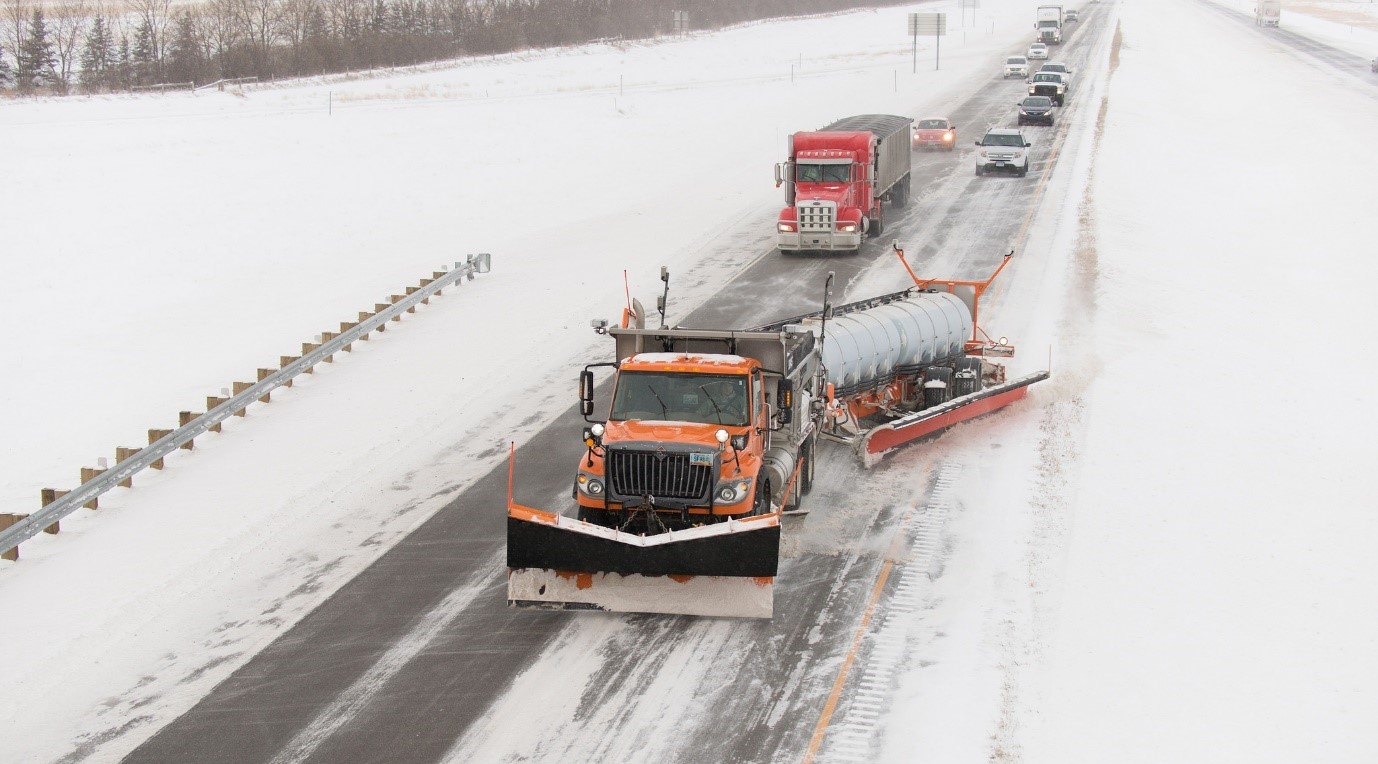 When winter elements truly kick into gear, snowplow drivers become the heroes of every community. Just as you've reached the safety of home to watch the snow fall from your favorite spot next to the fireplace with hot cocoa in hand, they're preparing for a long night of plowing and salting roads and driveways so you can get to work safely in the morning.
Snowplow drivers are doing a dangerous but incredibly important job. Unfortunately, collisions between snowplows and other vehicles are quite common – especially in the midst of a snowstorm.
It is imperative to drive defensively when snowplows are on the road. Passing snowplows should be avoided if possible, but if it must be done, consider these factors first:
1.Lane Conditions
Often times there is a line of vehicles trailing snowplows because it is in the process of clearing the roadway. What if the road in front of the plow is still covered in snow? Is the passing lane still covered in snow?
Carefully examine the road conditions before deciding to pass a plow. Never pass a plow using a lane that is still snow covered as you could lose traction very quickly – turning bad things worse when you're sharing the roadway with a 30-ton vehicle.
2.Following Distance
The typical speed of a snowplow is about 35 miles per hour; this speed allows the plow to move the optimal amount of snow. If the highway is backed up from an accident or poor conditions, the snowplow driver is stuck in the same jam as you are.
Never tailgate a snow plow, it will not make them move any faster. Tailgating a plow puts you in the greatest danger– imagine if a chunk of ice flew up from the plow and shattered your windshield!
For safety's sake, it is best to keep about five or six car lengths between your vehicle and a plow. Snowplows may need to stop or swerve abruptly to avoid obstacles.
3.Blind Spots
Snowplow drivers have very large blind spots considering the size of their vehicles, and poor weather conditions might make it even harder for them to notice your vehicle. This is why you should always turn your lights on in winter conditions. Never attempt to sneak around a snowplow in a non-legal passing area (like a double lined road).
Remember, the plows themselves are usually wider than the truck they are attached to – so you might not always be able to see it through the swirling snow. Some snowplows come equipped with specialized front and side plows. These side plows could jut out 10 to 12 feet on the side! If you pass them, you run the risk of not clearing the plows.
If there are whiteout conditions or icy roads, it would probably be best to hang back.
---
You can help everyone stay safe this winter by following these 3 tips when sharing the road with snowplows. If they stay safe, you stay safe, and we all commute safely together.
Contact your local Rockford Mutual Insurance Agent to ensure you have adequate coverage for your vehicle this winter.
Amy Casey
Social Media & Communications Coordinator
Amy joined Rockford Mutual in January of 2017 with an Associates Degree in Marketing. Amy has a great understanding of insurance in general as she is currently working towards an Associate in General Insurance designation.