10 Ways to Instantly Improve Your Home's Lighting
Lighting can certainly make or break the feel of any room in your home. Whether you're looking for a cozy vibe or something bright and airy – your lighting plays a crucial role in setting the mood for your space.
A table lamp and overhead light used to do the trick – but today lighting fixtures have come such a long way that there are so many more options than that to make a statement. However, if you're looking to enhance your lighting, we've got 10 tips to think about that will instantly improve the lighting throughout your home:
1. Maximize Natural Light
Depending on the direction your home is facing, you may have an abundance of natural light at your disposal. South facing homes tend to have the most light, but depending on how your home is laid out, you could receive light from every angle. Be sure to keep your windows clean, utilizing blinds and light filtering curtains to improve lighting throughout the day.
2. Choose a lighting fixture as a focal point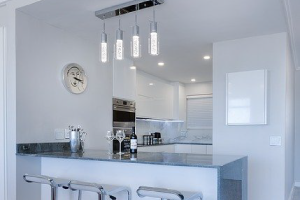 Elegant or abstract, lighting fixtures can tie together the style of an entire room. Think about placing your lighting fixture where it will draw a significant amount of attention. Consider placing a chandelier in larger rooms, such as your dining room or family room; and distinctive floor lamps in smaller rooms, such as your office or a seating area.  
3. Layer Your Lighting
Layers make a huge difference to the lighting of a room. For optimal balance, try for at least three sources of light in every space. With multiple lighting options, you can not only adjust the level of brightness for the room, you can highlight the extra details you've used to finish the space.
4. Use Dimmers When Possible
Dimmers not only allow you to instantly change the room's atmosphere – they can also help you save on your energy bill. Install dimmer switches in as many rooms and as many fixtures as you'd like to have more control over your lighting. Dimmers are a great tool to balance artificial light with natural light.
5. Incorporate Reflective Surfaces
Mirrors, glossy floors and metallic finishes will bounce light around any room. When placed strategically, these surfaces can enhance the light you've already installed.
6. Download a Light Control App
Did you forget to shut off that basement light before heading upstairs? Or maybe you're gone on vacation and would like to make it appear as if someone is home. Smart Home features can give you full control of your home, near and far. Using an easy-to-use smartphone or tablet app to control your home's lights are just one more way to improve your lighting.
7. Replace Frequently Used Bulbs
Consider replacing the bulbs from fixtures you use most often, such as your kitchen or entryway lights, for more energy efficient models. Light bulbs labeled "Energy Star" can have a significant impact on energy conservation; saving you anywhere from $40-$135 in energy costs per bulb and cutting energy use by nearly 75%. These bulbs are also backed by a manufacturers warranty, so you can trust that they will last.
8. Select a New Shade
Lampshades make more of an impact on a room than you may think. A light-colored shade can help to diffuse light while a dark-colored shade can concentrate light. A new shade also gives you an opportunity to add a pop of color to the room.
9. Upgrade Your Light Switches
New light bulbs respond better to newer switches. Some light switches can now connect to your lights wirelessly, allowing you to control your lighting with a remote. This is an added convenience that certainly improves your home's lighting.
10. Add an Exterior Fixture
Outdoor lighting provides both safety and convenience. If any of your entryways are dark, be sure to add a lighting fixture. Same goes for any walkways, landscape lighting can be great for lighting a walkway that may be more difficult to navigate at night.
---
Thinking of new projects and home improvements is one of the many benefits to being a homeowner. Luckily, lighting is one of those you can take from an inch to a mile! It's easy to make small adjustments here and there, or, take on a larger project to improve your home's lighting. Above all, remember to enjoy and have fun, giving yourself credit for all of the work that you do to make your house a home!
Trust your home and all of the hard work you've put into it with Rockford Mutual, get a free quote today:

Amy Casey
Social Media & Communications Specialist
Amy joined Rockford Mutual in January of 2017 with an Associates Degree in Marketing. Amy has a great understanding of insurance in general as she has obtained her Associate in General Insurance designation.