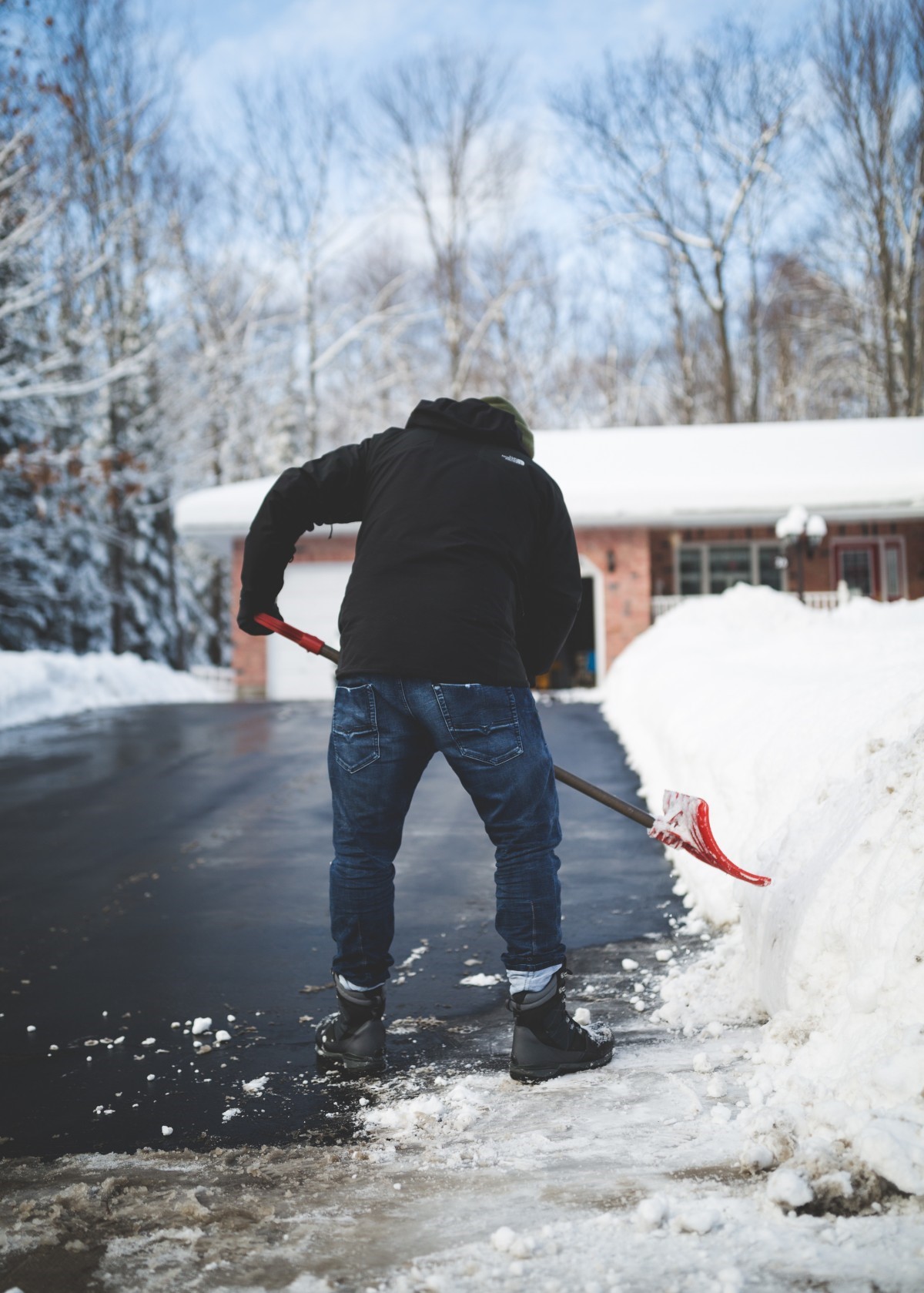 Every year, thousands of people are injured while removing snow from their property. Depending on the tools used, or lack thereof, snow removal can feel like a daunting task. It's vital to take the appropriate precautions when removing snow to avoid personal injury; we've got 5 tried-and-true tips to help keep you safe:
1. Pace Yourself
No matter the size of the job, snow removal is exhausting. Snow can weigh anywhere from 7 to 20 pounds per cubic foot depending on its density. So if you were to shovel one foot of snow from a 60-foot driveway, you would be moving more than a ton of snow! That's a lot!
According to the National Safety Council, cold weather increases blood pressure, heart rate and the possibility of blood clots. These are some of the reasons shoveling is so tough on our bodies. Before you begin shoveling, it is best to stretch and warm up your muscles, especially if you are not regularly physically active. It never hurts to take a break in between, catch your breath and drink some water.
2. Use the Right Shovel with the Right Technique
Shovels come in many different shapes and sizes, but looks can be deceiving. Experts say it is best to use a light shovel while spacing your hands out to give yourself more leverage. It's very important that you push the snow whenever possible, but if you must lift it be sure to lift with your legs and keep your back straight. Another tip to keep in mind is to avoid throwing the snow to the side or over your shoulder. This results in a twisting motion that will stress your back and increase the chances of an injury.
3. Dress for the Weather
Although many people may think they don't need to bundle up to shovel because it's a physical activity, it's always a good idea to protect yourself from the elements. Underdressing can lead to hypothermia, so be sure to layer up and be sure to protect your head and neck as this is where 50% of your body heat is stored.
4. Consider Investing in a Snow Blower
Depending on the size of the area you are clearing, you might consider purchasing a snow blower to take some of the stress off your body. Snow blowers come in various shapes and sizes, but they all have one thing in common – they're lightweight, easy to use and portable. Using one of these tools could save you hours of hard labor in freezing temperatures.
5. Don't Forget the Salt!
Once you've cleared your driveway, lay salt to melt the ice that was hidden under the snow. This will ensure you have adequate traction when entering and exiting your driveway. It is important to remember that when salt is used on your driveway your pets should not come into contact with it as salt is harmful to animal paws. Salt can also be harmful to any plants located around the driveway. Be mindful of where you place the salt depending on the amount of ice on your driveway.
---
All right, your driveway is clear and you're ready to hit the road – but are your tires ready to get you there safely? We'll identify how to tell if your tires are up for the challenging winter weather ahead, here!
Amy Casey
Social Media & Communications Specialist
Amy joined Rockford Mutual in January of 2017 with an Associates Degree in Marketing. Amy has a great understanding of insurance in general as she has obtained her Associate in General Insurance designation.