What is the Difference Between Collision Insurance and Comprehensive Insurance?
Many customers often confuse collision insurance with comprehensive insurance, or visa versa. In fact, collision and comprehensive insurance are two different types of optional auto insurance that provide coverage for repairs to your vehicle. These two coverages work hand in hand to cover you from many different possibilities of loss. It is important to understand the differences between the two to ensure your car is appropriately covered.
Comprehensive Insurance
Comprehensive car insurance covers damages from events that are not caused by a car driving into something else, but rather something else causing damage to your car. Comprehensive covers you for incidents you have no control over, such as a heavy tree branch falling on your car, you had no idea when it would happen or why.
Types of Damages covered under Comprehensive Auto Insurance
Natural Disasters – storms, hurricanes, hailstorms, earthquakes, tornadoes, etc.
Fire, civil commotions, explosions.
Theft and vandalism.
Damages from collision with an animal, such as a deer.
Missiles or falling objects, such as a tree.
Contact with bird or animal.
Breakage of glass.
Although we have no way to anticipate these types of damages to our vehicles, they unfortunately happen every day. Comprehensive coverage can provide you true peace of mind on your vehicle.
Collision Insurance
Whether your car is involved in a crash with another car or rammed into a permanent structure, you can have a true piece of mind knowing collision insurance will cover the damages to your vehicle. The majority of car accidents in fact fall under this kind of insurance policy.
Types of Crashes Covered by Collision Insurance
You crash into another car, or another car crashes into you while your parked.
You crash into a ditch or pothole.
Your car flips over.
You drive into a stationary object, such as a streetlight, pole, or tree.
A hit and run, if the other party is either uninsured or cannot be located.
While there are many benefits to collision insurance, one of the most significant is that you can file a claim and receive reimbursement despite who was at fault for the damages. Another plus would be that these claims tend to move much faster than property damage claims because we do not have to investigate who was at-fault.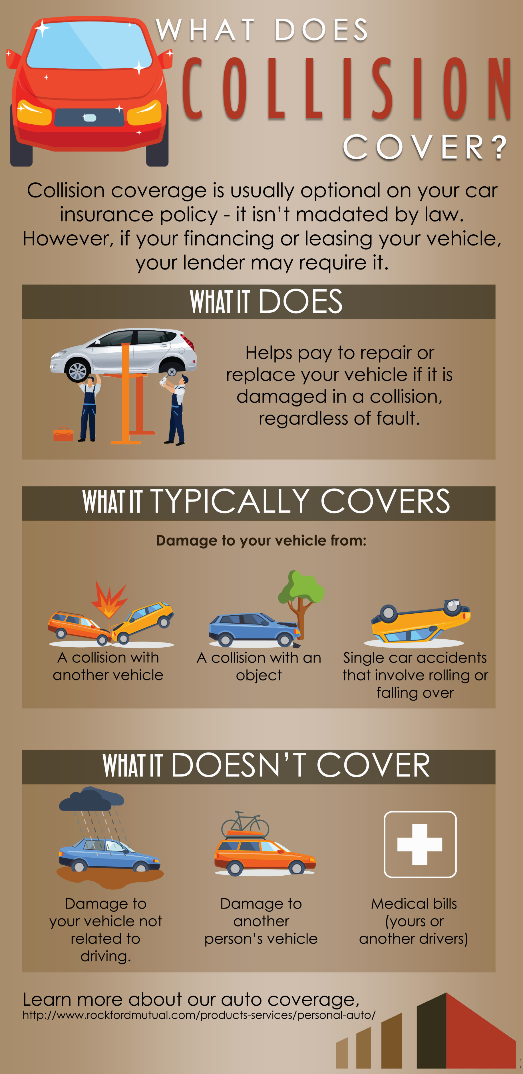 *Blog updated May 16, 2023
To learn more about our Comprehensive & Collision Coverage, find a Rockford Mutual agent today. 

Amy Casey
Social Media & Communications Specialist
Amy joined Rockford Mutual in January of 2017 with an Associates Degree in Marketing. Amy has a great understanding of insurance in general as she has obtained her Associate in General Insurance designation.