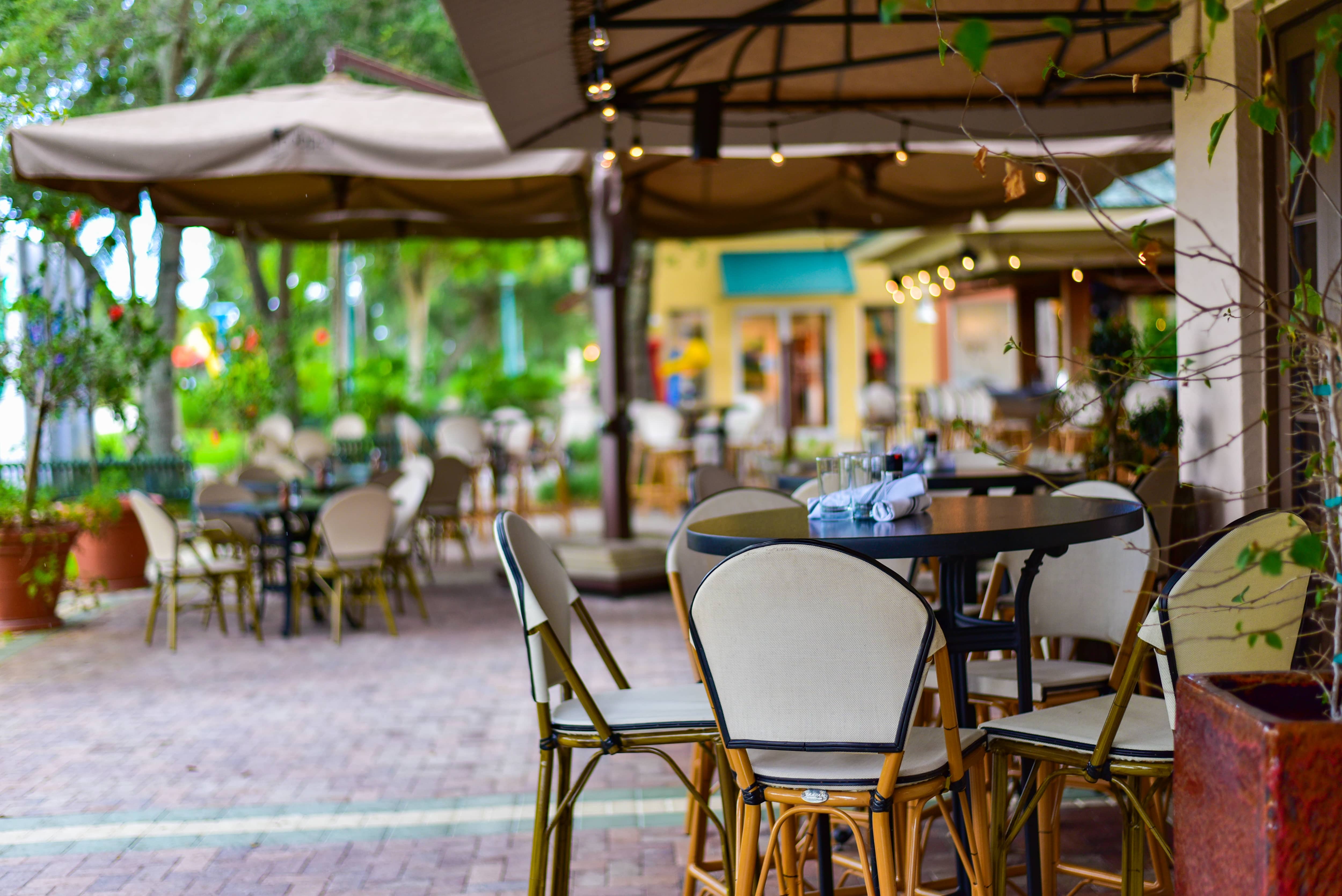 The pandemic acted as a catalyst in restaurant owners innovating and exploring different ways to enhance their dining experience. For some it meant including an outdoor arrangement, and for others it meant renovating their existing space. Many consumers enjoy dinner outdoors, so if you have an existing outdoor space or are looking to add one, consider implementing these ideas to make a splash:
1. Host Events:
A great way to gain more attraction to your outdoor dining space is to consider hosting events. These events can range from live music/bands, happy hours, and social events. If you aren't sure what your consumers are interested in, create a place where they can vote on what kind of events they would want to see incorporated. Adding events can attract not only your existing customers, but also new consumers who may have never heard of your business before. 
2. Create a Unique Outdoor Only Menu:
The best way to attract consumers to go outdoors is to make a tailored menu and drinks that you don't offer in house! Keep the menu options simple, but unique enough to cater to your audience so try to pick items that offer high margins and that pair well with the drinks you offer to increase alcohol sales for the ultimate al fresco experience .  The menu shouldn't be as extensive because you want your consumers to spend less time looking at a menu and more time socializing and enjoying the space.
3. Implement Technology:
The implementation of technology has become bigger than ever in the restaurant industry.  Technology gives restaurant owners many ways to improve overall operations and help various tasks run smoother. Here are a few options to consider:
Digital menus: Instead of having individual menus for customers to look at you could make the switch to adding digital menus. The digital menus will allow you to customize your menu with photos or videos of the food and drinks you offer.
QR scan code: These no-touch menus allow customers to have the menu right in the palm of their hands with a scan of a barcode. You could also choose to use QR codes for customer reviews and recommendations on what events they would like to see implemented. The QR scan codes allow you to be versatile in ways a regular menu wouldn't.
Air curtains/Motorized screens: These curtains/screens have become a big hit for outdoor dining experiences because it gives you the sense of still being outside without the hassle of weather conditions, insects, and other variables.
Remote controlled fans/heaters: The weather is an ever-changing variable but that doesn't mean it'll stop customers from dining out if you are able to make the environment comfortable enough. For extreme temperatures remote controlled fans that can cool the area without blowing everything around, and in cooler climates the safe use of outdoor heaters  could create a nice cozy ambiance.
4. Create the Perfect Atmosphere:
When you think about enhancing your outdoor dining space, consider sprucing up the overall atmosphere of what it looks and feels like. Consider improving on the lighting and seating elements of your space.
Lighting
To extend the length of time you are able to serve your customers outdoors, consider implementing better lighting options. You can use different lighting throughout such as string lights, modern outdoor fixtures, candle or light centerpieces that can be placed on the tables to add to the overall atmosphere dining experience.
Seating
Choose seating that is intriguing, comfortable, but also durable enough to withstand external elements. Include enough seating options to make sure you can accommodate the needs of your customers.
5. Add Amenities:
Once you have the overall atmosphere and seating squared away you can begin to add a personal touch to the area. These amenities could be different decorative plants, water fountains, or a signature photo wall that could increase your social media presence .
---
Including these additions in your outdoor space can help elevate your restaurant entirely. Drawing in regular and new guests will be a breeze with an option to enjoy both indoor dining, or a have a unique outdoor dining experience.
Shamara Glover
Marketing Assistant
Shamara joined Rockford Mutual in November of 2019 with a Bachelor's degree in Business Administration from Robert Morris University in Chicago.