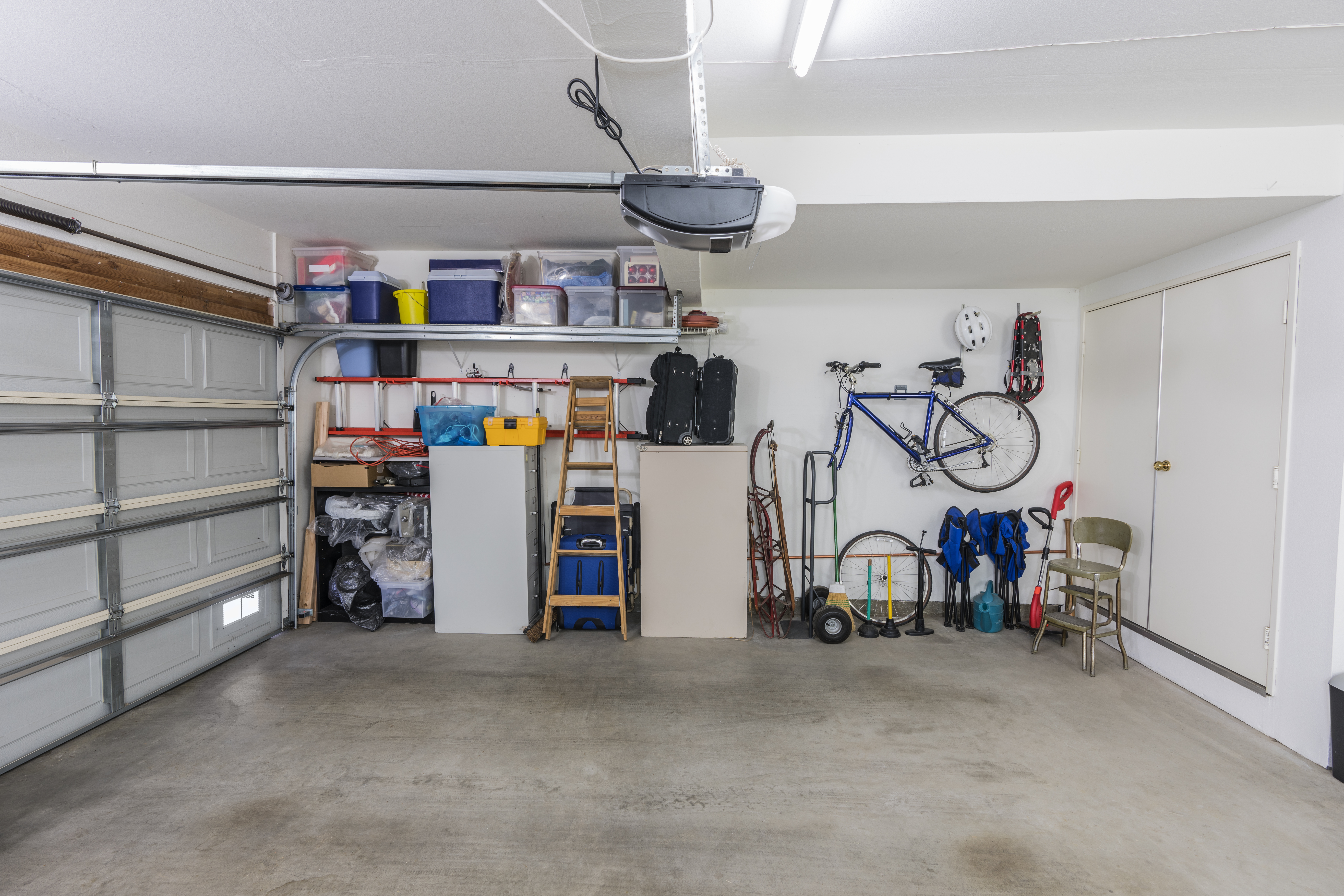 While your garage can double as a storage space, it is still the most ideal location to store your vehicle. Storing your vehicle in the garage will not only help keep it cleaner, but also protect it from damage like bird droppings, vandalism, UV exposure, tree sap, etc.
The key is organization - figuring out a way to store things safely in your garage and still have plenty of useable space. It might be more of a challenge for some people compared to others, but we promise it will be worth it in the end!
We've got 5 easy steps you can take to rid your garage of any clutter once and for all!
1. Sort Through Your Possessions
You may need to set aside an entire day, or even a full weekend or two, to get the job done. Enlist the help of family or friends to ensure you sort through everything, including boxes you shoved outside from when you first bought your house ten years ago.
Categorize EVERYTHING
Sort everything in your garage into three piles: keep, sell or donate, and trash. Place these items in designated areas of your driveway to keep them separated and easy to identify.
Keep
Sort your keep pile into broad categories (like gardening tools, sports equipment, camping) and place them in labeled clear-plastic bins you can use later. Put them back in the garage until you've sorted through your sell and throw away pile.
Sell or Donate
Donate giveaways such as children's clothing or old shoes as soon as possible to clear them out of your way. Plan a yard sale for anything that you believe still holds value.
Trash
Be mindful of what you are throwing away. Some items, like paint and cleaning products, require special disposal. Dispose as many "trash" items as you can. If you have too much trash for your hauler, bring the remaining items to your local trash and recycling drop-off.
2. Relocate Some Items
Some items can be hazardous and/or risky to store in the garage. If you come across any of these items, relocate them accordingly:
Paint - extreme heat or cold can ruin paint. Store cans in a room temperature area out of reach of children, like the top shelf of a basement closet.
Propane tanks – these pose a significant fire hazard, a small spark could ignite your entire garage. Propane tanks should be stored outdoors in a dry, open, well ventilated area. They should never be stored in your garage, basement, shed or attic.
Paper Products - roaches and other bugs love paper products. Keep these in your pantry.
Pet food – raccoons and other critters will sniff out pet food and try to invade your garage because of it. Keep pet food in a sealed container inside.
Refrigerator – if you live in a region with hot summer temperatures, a fridge stored in your garage can significantly increase your energy bill.
3. Safety is Key
Garage fires can spread farther, go undetected longer and lead to more injuries and dollar loss than fires that originate in other areas of your home.  It's important to implement a variety of risk management techniques to protect your family and your home:
Plug only one charging appliance into an outlet.
Never use an extension cord to charge an appliance.
Keep items that can burn on shelves away from appliances.
Install:

A 5- to 10-pound U.L. listed fire extinguisher and mount it in an easy-to-access spot.
A 20-minute fire-rated door that is self-closing and self-latching from the garage into the house.
An attic hatch cover if you have attic access from the garage.
A heat alarm – in addition to your smoke alarm. The heat alarm will sound if the temperature reaches a dangerous level.
4. Draft Your Dream Layout
You'll want to have a good idea of how much space you have to work with before you buy any storage products for your garage. Before proceeding to step 5, measure your garage's dimensions and note the size and location of windows, switches, doors and how much space your vehicle takes up. These specs will help you determine where you can group certain items together given the space provided.
Generally, try to group these items together:
Items you use with one another - like gardening tools and lawn chemicals.
Bulky items - like lawn mowers, in corners where they won't get bumped or knocked over by your vehicle.
Frequently used items – place items like bikes and strollers close to the garage door where they are easy to access.
Rarely used items/seasonal items – place items like seasonal decorations in the hardest-to-reach spots.
5. Utilize Storage Products
The more items you can lift off the floor, the more space you'll free up. Investing in some of the following storage products will help you utilize the space as efficiently as possible:
Shelving Units – shelves are a cost effective way to organize items while making them easy to access.
Cabinets – cabinets are a good storage unit for items you'd like to protect from dust and dirt, but try to use them sparingly. Cabinets make it easier for you to hide clutter and can become unorganized rather quickly.
Peg boards – these are great for hanging smaller items to declutter the surfaces of your garage. They are great for hanging tools!
Ceiling rafters or suspended shelving – you can store long items such as kayaks or seasonal décor using the ceiling to keep them off of the floor.
---
Organizing your garage may be at the bottom of your to-do list, but it should be towards the top! Once you've identified everything in your garage, be sure to add significant items to your home inventory list!
Amy Casey
Social Media & Communications Specialist
Amy joined Rockford Mutual in January of 2017 with an Associates Degree in Marketing. Amy has a great understanding of insurance in general as she has obtained her Associate in General Insurance designation.