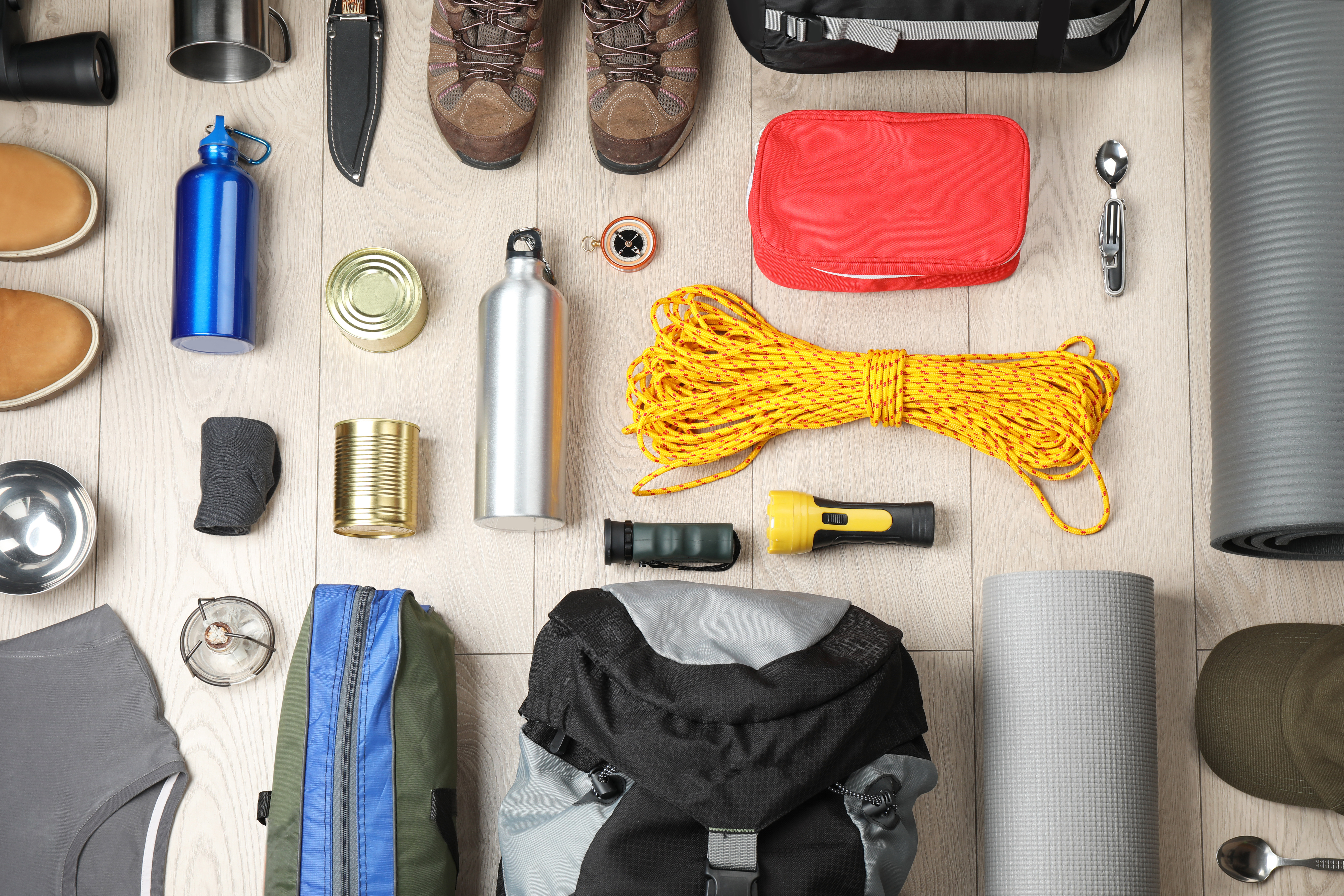 When you depart for a camping trip, there's no telling what mishaps you may run into on your voyage - Will the power go out? Will the roads be drivable? Will you have reception? The unknown is enough of a reason to leave prepared.
Regardless of where and when you are camping, you should always have an emergency kit to offer protection if disaster strikes. Here are 10 things you may already own, or want to invest in, that will have you ready for most emergency situations:
1. 3-Day Supply of Nonperishable food
It's never a bad idea to pack nonperishable snacks or canned foods in case of an emergency. Ideally, these items shouldn't require refrigeration or cooking. Items like granola bars and canned soups are a great option (don't forget your can opener!). Ready.gov recommends having at least a three-day supply of nonperishable food.
2. Clean Water
It's vital that you and your group have access to clean drinking water in case of an emergency. Ready.gov recommends keeping on hand one gallon of water per person per day for at least three days. Also consider investing in a water purifier, such as a LifeStraw, in case your supply of clean drinking water runs out.
3. First-Aid Kit
From minor cuts and scrapes to more severe injuries, a first-aid kit is a must because accidents do happen. You can assemble your own kit or purchase one, but make sure you include these items:
adhesive bandages of various sizes
butterfly bandages
gauze pads of various sizes or gauze roll
antiseptic creams and ointments
sterile wipes and rinse solutions
pain and anti-inflammatory medicine
hydrocortisone cream
tweezers, scissors, safety pins, and knife
sunburn relief spray
anti-diarrhea medicine
antihistamine for allergic reactions
eye drops
triple antibiotic ointment
moleskin
hand sanitizer
4. Headlamp/Lantern
Whether you lose power for a few hours or a few days, you don't want to be forced to stumble around in the dark. Stash an extra headlamp or lantern with fully charged batteries, as well as an extra set of backup batteries. Some lanterns have a hand crank for charging the battery so you don't have to worry about running out of juice.
5. A Map
Flooded streets or downed trees could force you to choose an alternate route. Your GPS may be able to redirect you, but the more you can limit your dependency on battery-powered gadgets when the grid goes down, the better. Pack a map or atlas that covers the area you are traveling and add it to your emergency kit so you can find the best route through the mayhem.
6. Multi-Tool
A good multi-tool can be used for a variety of uses in the event of an emergency. They typically come equipped with a knife blade, scissors, screwdrivers, a can opener and more.
7. Radio
If you're ever left stranded with no cell service, a radio can help keep you informed on the latest news. With a simple battery-powered weather radio that picks up AM, FM and NOAA radio bands you can stay updated on the current weather and emergency conditions and enjoy some music or talk radio to pass the time. If you have one with a solar panel and/or hand crank you won't have to worry about draining the batteries.
8. Emergency Survival Shelter
Contrary to the survival shows, cutting down trees and building a shelter is more strenuous than one might think. An Emergency Survival Shelter is what you really need in this type of situation. Staying warm within a shelter will help prevent hypothermia as well as help calm your body and nerves in a high-stress situation.
9. Fire Starter
Since a fire is essential for warmth, light, and peace of mind, a firestarting tool is a necessity. You can use something simple like a magnesium fire starter stick which creates large sparks, is resistant to all weather and can be struck 15,000 times. Or you could go with an easier method like a stormproof match kit. These match kits have water-resistant matches, waterproof cases and are about the easiest way to light a fire when in a tough situation.
10. Backup Battery
If you want to keep your phone and other electronics functioning with no electricity, a portable power device like a compact battery pack will provide one or two full charges. If you want to run small appliances, lights and other devices for a short time, you may consider a larger portable generator.
---
When disaster strikes, it's better to be safe than sorry. From minor emergencies to full-blown disasters, this Camping Emergency Kit will help you face the storm. 
Amy Casey
Social Media & Communications Coordinator
Amy joined Rockford Mutual in January of 2017 with an Associates Degree in Marketing. Amy has a great understanding of insurance in general as she is currently working towards an Associate in General Insurance designation.