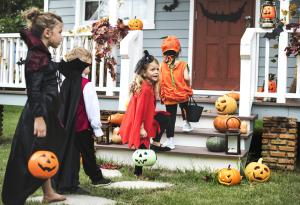 10 Trick-or-Treating Safety Tips Every Parent Should Consider
It's that time of year again, the little ones get to be imaginative and stroll the streets in their best costumes! Halloween is one of our stranger traditions - it's just about the only time we encourage our kids to ask strangers for candy.
5 Things You Need to Do to Prepare Your Home for Trick-or-Treaters
*This post was updated 10/26/2020.
Fall nights are in full swing and Halloween is just around the corner! If you plan to hand out goodies this year, be sure that you prep your home to ensure safety for tiny ghosts and goblins who will soon be knocking on your door.