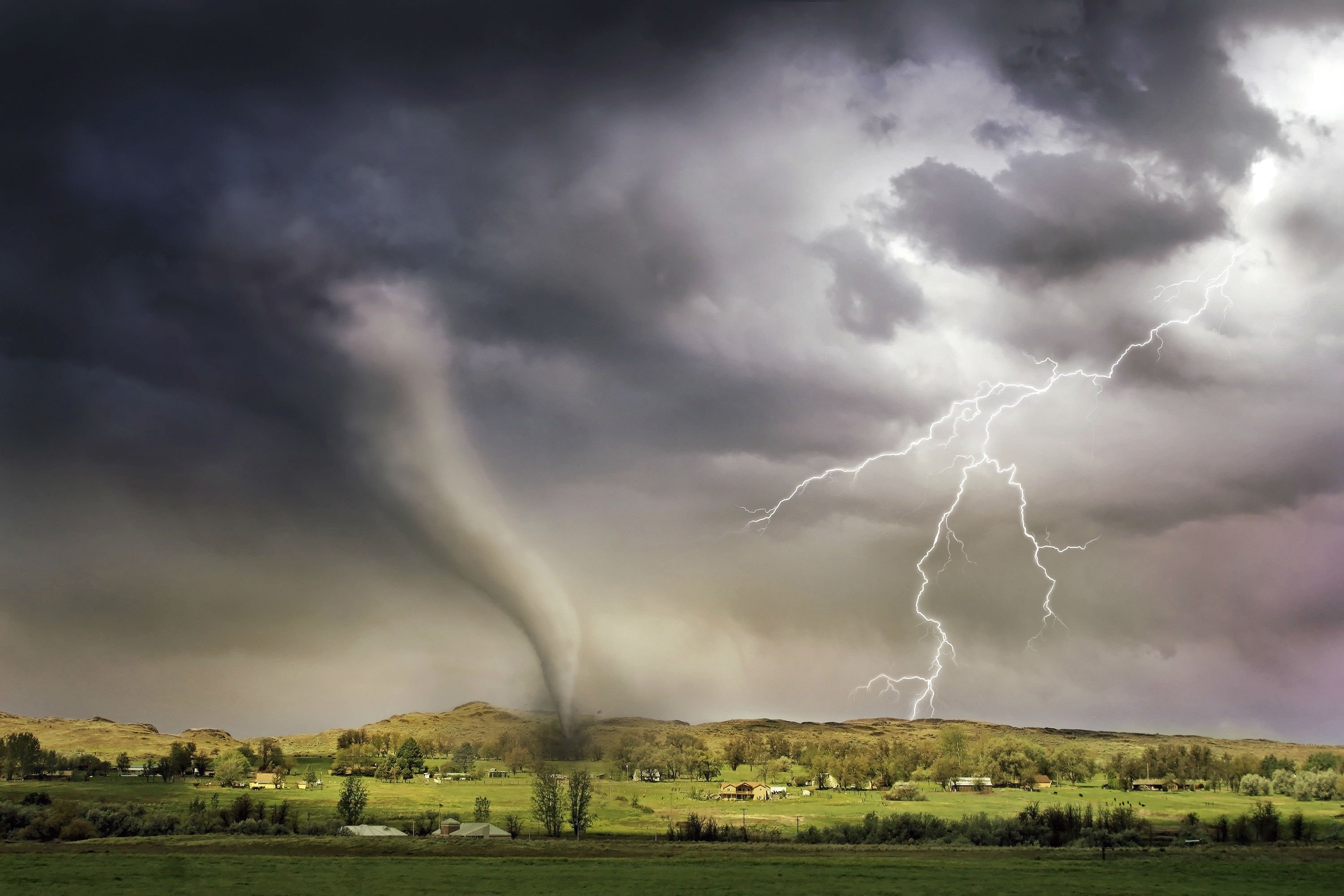 We've all been there – the winds start to howl, the skies turn charcoal gray and the rain beats fiercely on our homes. Just the sheer thought of a storm turning from bad to worse makes our skin crawl. What if a funnel begins to form? What if that funnel actually touches the ground? This is a fear faced by homeowners, renters, business owners and farm owners alike.
An average of 1,000 tornados are reported every year resulting in billions of dollars in property damage. The winds from these natural disasters wreak havoc on whatever they touch, not only destroying property, but destroying families by taking loved ones too soon.
While a tornado can unexpectedly strike any time of the year, they peak in April and the threat typically lasts through June. It is vital to prepare your home and your family for the worst beforehand, so you can remain as safe as possible throughout a vicious storm.
Before the Storm
Stay Alert
Pay special attention to the forecast and news stations throughout tornado season. Knowledge is power,  having ample notice of the storm approaching will provide the best opportunity to keep you and your family safe.
Prepare a Disaster Kit

There doesn't need to be a tornado warning for you to gather the supplies necessary to stay safe throughout the storm. Ready.gov recommends you keep the following items in your home disaster kit:
Batteries
Blankets
Can opener
Closed-toed shoes
Dust masks
First aid kit
Flashlight
Important papers (Social Security cards, birth certificates, insurance information, etc.)
Medications
Pet supplies (food, leashes, carriers)
Phone, computer, and chargers
Portable weather radio
A three-day supply of food
A three-day supply of water (one gallon per person per day)
Maintain an Updated Home Inventory List
Everything you own is worth something, so it is important to keep documentation of your possessions in the event of a loss. A tornado could damage not only your home, but the possessions within it as well.
The safest bet is to keep one copy of your home inventory list in a safe location outside of your home, one copy in a digital format, and one copy with your insurance agent.
Home Renovations

If you've recently completed a home renovation, be sure to report the project to your insurance agent so they can adjust your coverage to reflect the new value of your home factoring in recent updates.
When you don't report updates, you won't receive the full value of the home in the event of a total loss. You can avoid this catastrophe by keeping in touch with your local agent and making sure they stay informed.
During the Tornado
Tornado Warnings
Once a tornado warning has been issued for your area, you'll want to keep everyone indoors, pets included. Even if the funnel doesn't contact your home, strong winds could pick up heavy items and send them flying your way. You should have a designated safe zone to retreat in the event of a tornado; every situation is unique:
In Homes
Retreat to your basement, a small interior room, or a hallway on the lowest level. If possible, crouch under something sturdy like a staircase or a heavy table.
Never seek shelter near windows as strong winds can shatter glass and result in severe injuries. Also avoid the corners of the room.
In Mobile Homes

Mobile homes can present an extremely dangerous situation during severe storms because they are not rooted to the ground on a foundation the way regular homes are.
Your best bet is to leave your home and find protection at a nearby storm shelter or under a substantial structure if there is one nearby – however, you should never seek shelter under trees. If no shelter is nearby, find a ditch or culvert and lie flat in it with your hands protecting your head.
In Vehicles
Always leave your vehicle when a twister breaks out. Try to locate a deep ditch or culvert where you can lie flat and cover your head. Never seek shelter under a bridge or highway underpass, as these can weaken and create dangerous falling debris.
Tornados can travel as fast as 60 to 70 mph and change direction without warning, so never attempt to outrun them in your vehicle.
In Businesses
Most establishments will have a designated storm shelter, room or hallway to evacuate to in case of a tornado. Make your way to this area when directed by business staff and cover your head with your hands. Stay away from windows and doors to the best of your ability.
After the Tornado
Recovering from the Damage
Once the storm passes, tune into your local weather channel if at all possible to ensure another tornado is not on the way or if more dangerous weather is arriving soon.
Only when the storm has been cleared and it is safe to do so, check your surroundings and help anyone who is injured – however, leave the more serious injuries to medical personnel. If you find someone who has stopped breathing, only administer CPR if you're trained to do so.
If you wish to register yourself and your family on the American Red Cross Safe and Well site, you may do so when the coast has been cleared.
Inspecting Your Property
Inspect your property for damages such as:
Downed power lines (stay away from them but report the issue to your utility company)
Frayed wires, sparks, and other signs of electrical damage
Gas leaks
Spilled medicine, gasoline, and other flammable liquids
Structural collapses
---
After you've made sure your family is safe and out of harms way, contact your local RMIC Agent to report damages.
Review your homeowners insurance with your local agent before the storm strikes to make for a speedy recovery when the twister has subsided.
Amy Casey
Social Media & Communications Specialist
Amy joined Rockford Mutual in January of 2017 with an Associates Degree in Marketing. Amy has a great understanding of insurance in general as she has obtained her Associate in General Insurance designation.