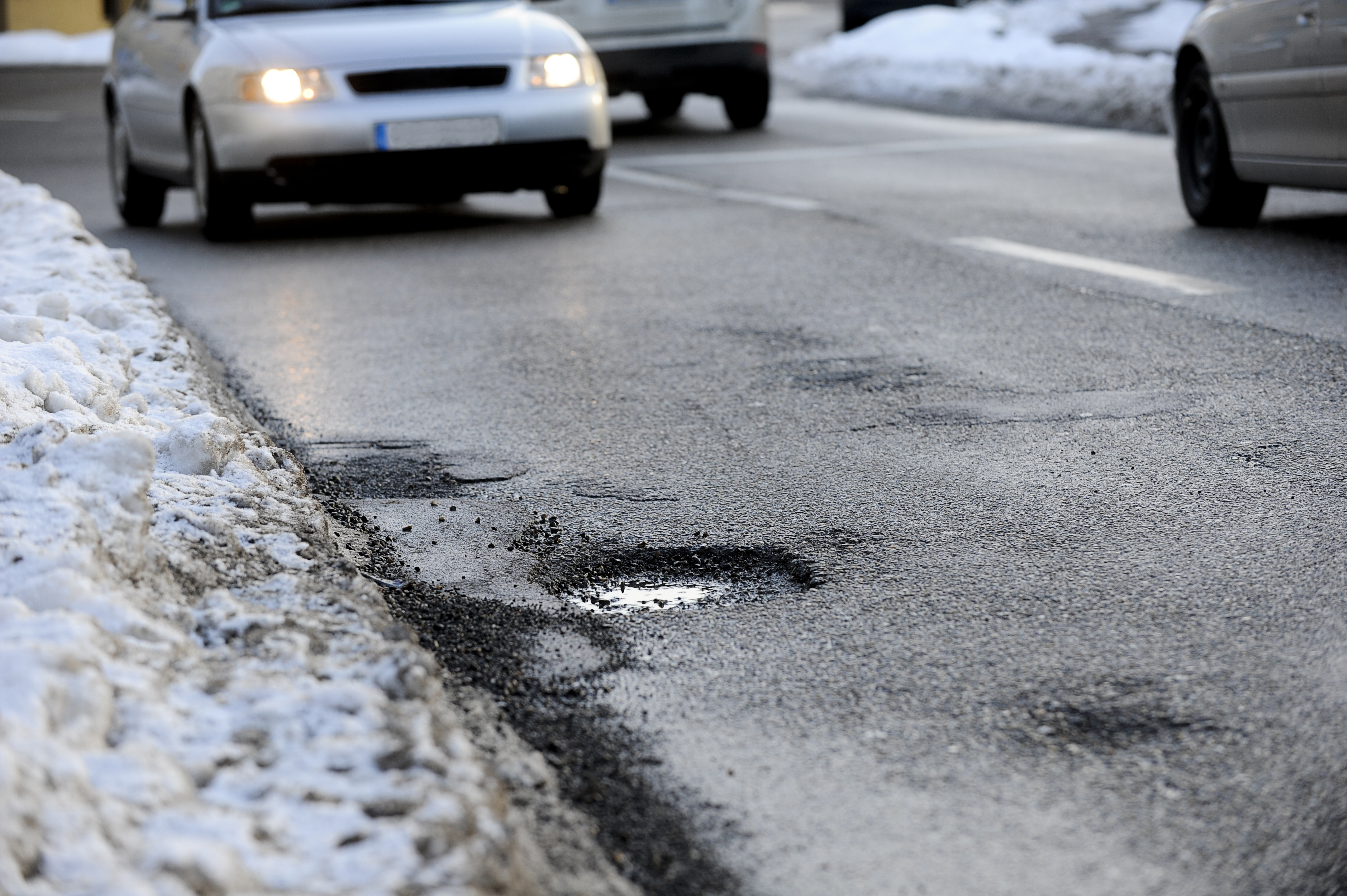 The natural freezing and thawing of our roads throughout winter heading into spring creates potholes on our roads. Sometimes no matter how hard you try, these deep road blemishes are hard to avoid – it's not like you can swerve to the side of the road into oncoming traffic just because you encounter a pothole!
The most practical way of dealing with potholes is with prevention. Best practice is to slow down, keep a watchful eye on the road and pay attention to cars ahead of you that may be trying to avoid potholes altogether. Other than that, also try to:
Be especially careful when it rains. Not only are wet roads slick, they also cause potholes to fill with water, making them even harder to spot.
Ensure your tires are properly inflated. An under-inflated tire may not have enough resistance to withstand the impact of a pothole, increasing the chances of suffering a flat tire.
Avoid braking on the pothole itself. While you should always slow down as you approach a pothole, you shouldn't brake while traveling over one. This will likely cause more damage than simply rolling through the pothole at a reasonable speed.
If you spot a potentially dangerous pothole on a busy road, be sure to notify the appropriate city or township.
How to File a Pothole Claim
Thankfully many – but not all – cities allow you to file a pothole claim if your vehicle suffers extensive damage from a pothole on a state or city roadway. The process varies by state and city, but these are the steps you should take to help make your case regardless of where you live. (Check in with the state or city where your vehicle was damaged for specific instructions on how to file a pothole claim.)
Keep a detailed record. Take note of the date and time of day the damage occurred in addition to the precise location. Also take down a thorough explanation of the damage your vehicle suffered.
Take a photo of the pothole. A visual can help support your claim.
Obtain contact information from any witnesses. Eyewitnesses can help to strengthen your case.
File a police report. Contact the appropriate state or city police department and file a report. Make certain to get a copy of the report to submit with your claim.
Get two or three repair estimates. The majority of places require you to submit estimates along with your claim.
File your claim ASAP. Some places limit the number of days in which you can file a claim after the occurrence, so it's best to submit your claim sooner rather than later.  
Remember there is no guarantee your claim will be accepted and that payments for damage can have a cap, but nevertheless, it's still worth a try! So check with your state and/or city to discover if and what they might cover when it comes to pothole claims.
One thing you shouldn't avoid: a Rockford Mutual Auto Policy. Contact your local Rockford Mutual Agent to make sure you're covered on every journey you take.  
Amy Casey
Social Media & Communications Specialist
Amy joined Rockford Mutual in January of 2017 with an Associates Degree in Marketing. Amy has a great understanding of insurance in general as she has obtained her Associate in General Insurance designation.