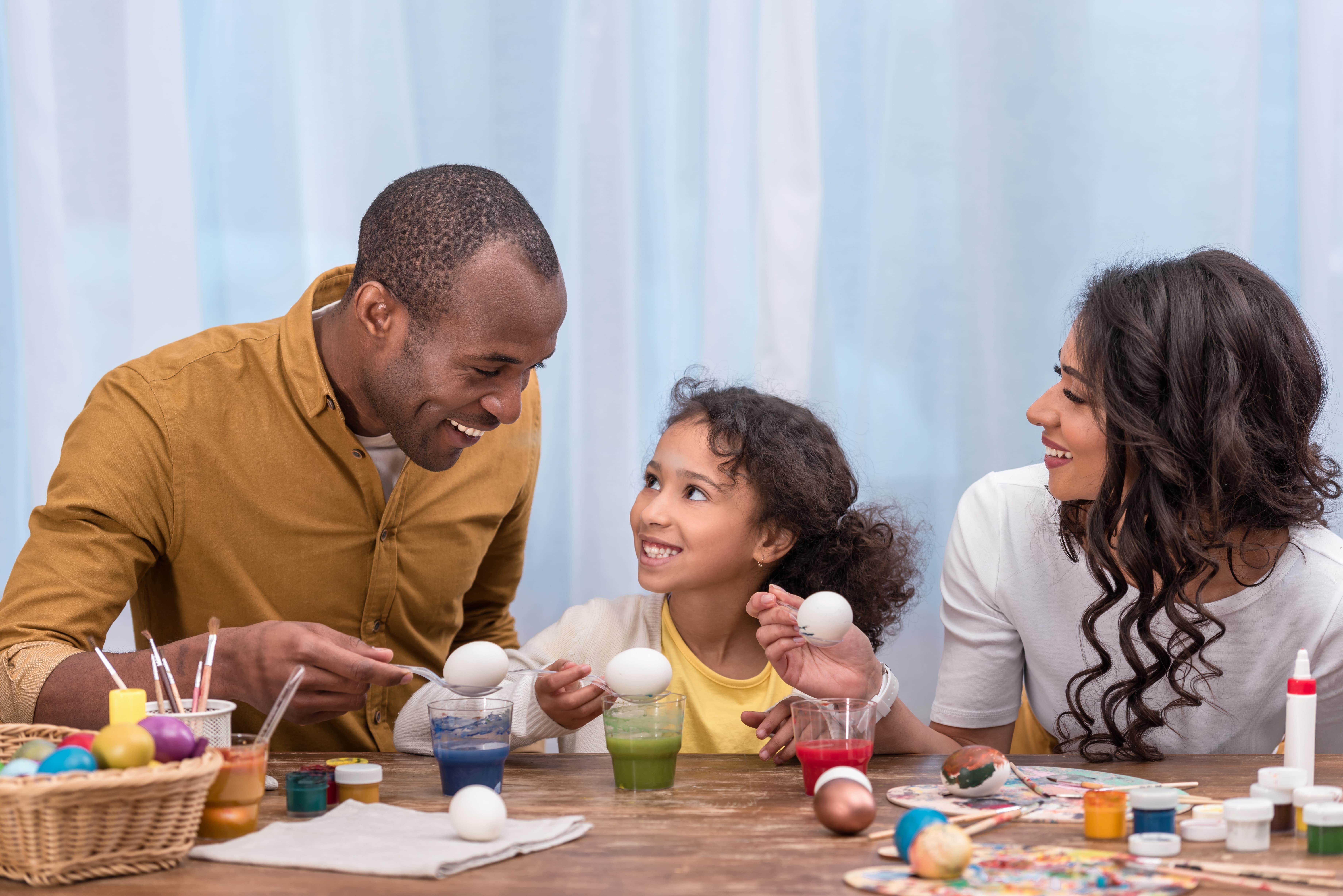 With social distancing becoming our new normal, you might consider adding a few twists to your normal Easter celebration! You can have a memorable and quality Easter with your stay at home people all the same:
1. Switch Up Your Egg Hunt
How fun to think about hiding eggs INSIDE of your home! There are so many hiding places inside. Since your hunting group will likely be significantly smaller than usual, holding your egg hunt indoors should be more manageable. If your yard is big enough, have your own personal nature egg hunt outside. Consider filling the eggs with different homemade goods, money for savings, "tickets" for future activities, etc. Have fun with it!
2. Change the Way You Decorate Eggs
Dyeing Easter eggs is indeed an annual tradition for many families. This year, though, you may not be able to run to the store to get some of the supplies you usually would to dye your eggs. It's time to raid your arts & crafts drawer! You'd be surprised at what you can create with these alternatives:
Glitter Eggs – use glitter to make the perfect bling egg!
Black & White Eggs – Keep your Easter eggs minimalistic with the use of a black permanent marker.
Twine & Yarn Eggs – With a dab of hot glue and some patience, twine and yarn look great when wrapped around an egg!
3. Order In for Easter Dinner
If you typically go out for Easter brunch or dinner – or head to your Mother's for her Easter specialties – don't stress yourself out by preparing a multi-course meal for your stay-at-home people. You'll want to make the groceries you do have last, and going in for a few extra eggs and potatoes just isn't worth the risk.
Instead, treat your family and support local businesses by calling and placing a carry-out order for a special Easter meal.
4. Bake an Easter Cake
Make this a family activity. Teach the kids how to follow a recipe and have them help out with measuring, mixing and decorating. Who knows, the cake could be your new family tradition!
5. Video Conference Friends & Family
Video conferencing is a safe and fun way to connect with people who matter most from a distance. You could even do some of your normal activities with everyone through a video conference to make it feel as though you are together. There are plenty of apps out there to choose from, including Zoom, Skype, Facebook Messenger, Google Duo and more!
6. Conduct a Special Easter Service
If your Easter celebration includes a religious component, check to see if your church is hosting a digital service. If they aren't, consider researching one online that you can stream. Even if your church is holding a service, many states, counties and cities have banned group gatherings. You can still stay connected with your church on Easter Sunday without attending the service. 
Amy Casey
Social Media & Communications Coordinator
Amy joined Rockford Mutual in January of 2017 with an Associates Degree in Marketing. Amy has a great understanding of insurance in general as she is currently working towards an Associate in General Insurance designation.