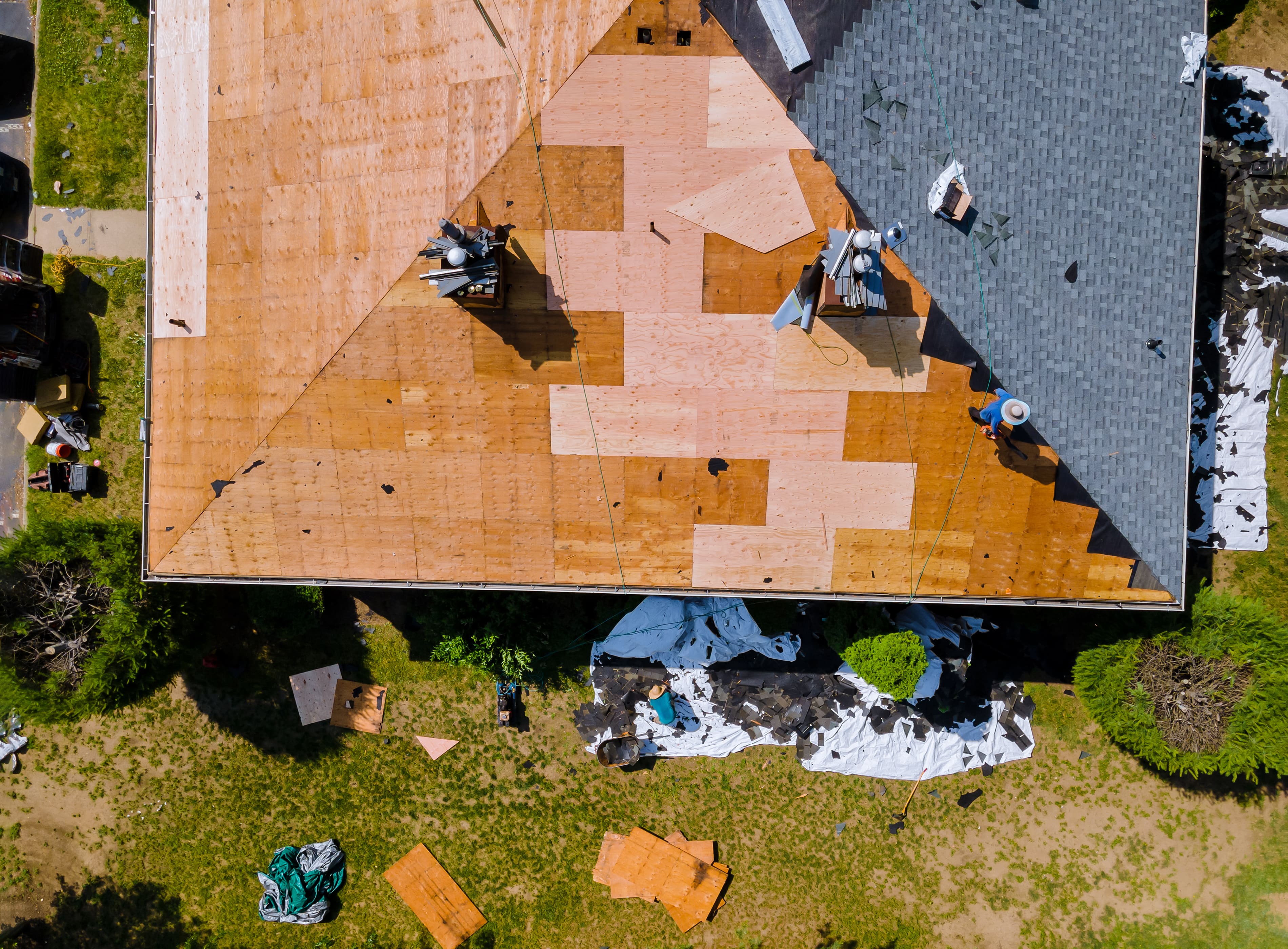 When preparing to reroof your home, it is beneficial to first understand the different options available to you. For most, reroofing a home is an extensive project that will have an impact on your home for many years to come. Whether you plan to stay or sell your home, selecting the appropriate roof will be a big decision for both current/future occupants.  
The average homeowner spends $8,667 to install a new roof, according to estimates from HomeAdvisor, an online home services company. However, costs to reroof a home can range tremendously depending on the material used. Different materials offer different advantages and come in at different price points:  
Slate
A slate roof is a premium roof system made primarily out of natural slate tiles and other slate roofing materials. The slate roof is often cut into square tiles instead of the traditional metal panels and are installed one at a time which can make the process take a bit longer. Slate isn't an option for every home due to the heavy weight of the material. Your home must be able to fit certain safety criteria in order to safely install a slate roof. 
It is often the more costly option out of the others mentioned but it does have its rewards for being so expensive, this type of roof is one of the most long-lasting and durable choice.  
Slate roofs can last a surprising 60-125 years! 
Wood Shake
Wood shake is created from natural hardwood, such as cedar. It has been a top material used in many homes making it a classic roofing material choice that is considered to be the most aesthetically pleasing out of other options.  
The benefits of using cedar wood shake is that it has the ability to be a natural insulator since it is derived from wood. If you are looking to increase your home's energy efficiency capabilities, then this is a good option. The wood can help keep your home warmer in the winter and help cool your home in the summer.  
Another great aspect of wood shake roofing is they won't shrink as easily. The cedar material protects it from UV rays and humidity/moisture, and the shingles are pest-resistant and have a great resilience against wind.  
Wood shake roofing typically lasts 40-50 years. 
Fiber Cement
A fiber cement roof is made up of cement, sand, and cellulose fibers in which manufacturers reinforce cement with fiber such as cardboard and similar items. Some of the selling points of a fiber cement roof material is that it is easy to obtain and less expensive than the other materials.
Fiber cement is versatile also, offering a wide range of color options as well. Fiber cement is weather, fire, insect, and rot resistant which are very important elements in deciding whether a roof material is a good fit or not.
Fiber cement roofs typically last 20-25 years.
Asphalt
The most common type of roofing material we typically see is an asphalt shingle roof. This roofing option has 3 different types of shingles made from asphalt to choose from: 3-tab, dimensional, and luxury. The differences between the 3 are that 3-tab asphalt shingles lay flat and get their name from the 3 tabs on each shingle strip. Dimensional shingles give you a good- looking random pattern that simulates the look of a wood shake roof, and luxury style shingles are heavily marketed like dimensional but are almost double the price.  
The life span on this particular roof type varies from which asphalt shingle type you choose.  
3-tab shingles have a lifespan of 25 years and offer the shortest lifespan of the three. Dimensional and luxury shingles both have a lifespan of 30 years, but the luxury style has the possibility to go over 30 years and up to 50 under the right conditions.  
---
With any roofing material you choose it is important to get it inspected and perform the appropriate maintenance as needed. This can range from 1-2 times a year. This will help your roof function at the highest level and increase its longevity.
Avoid paying for sudden and accidental damage to your property with Homeowners insurance from Rockford Mutual:
Shamara Glover
Marketing Assistant
Shamara joined Rockford Mutual in November of 2019 with a Bachelor's degree in Business Administration from Robert Morris University in Chicago.