Our 125th Anniversary Celebration 
This year, Rockford Mutual celebrates those who make our company great. Loyal policyholders, dedicated independent agents who represent us, our associates, and our Farm Mutual Partners all play a huge role in the success of our organization.  Without their support and belief in our mission and the core values we operate by, we would be unable to help those who need us most each and every day.
Take a journey through the milestones that shaped Rockford Mutual, one decade at a time: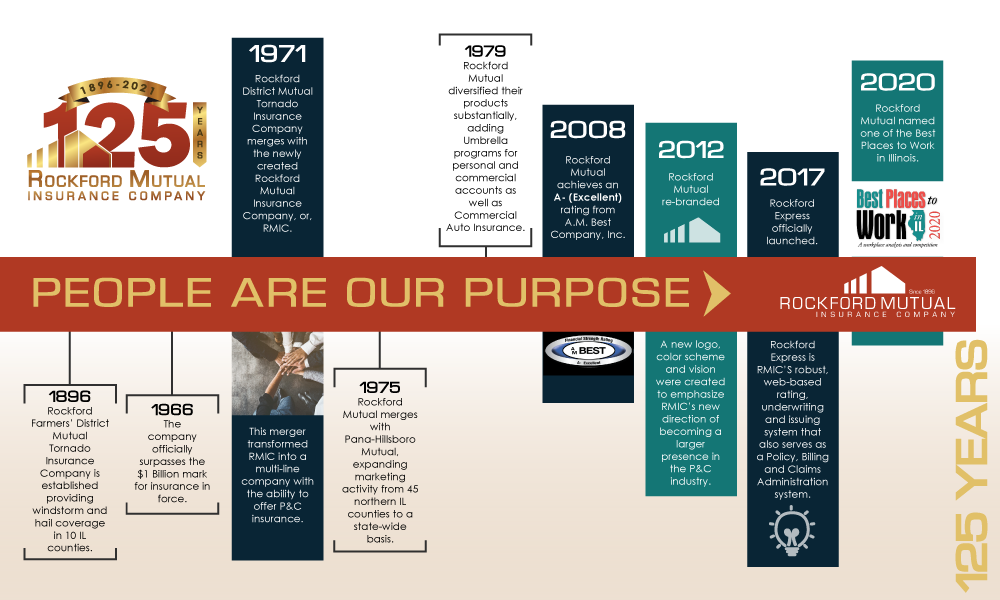 The years have passed, along with many monumental moments that have brought us to where we are today. Through the toughest of storms, Rockford Mutual has persevered to provide the support and service our agents and their policyholders deserve. From devastating catastrophes like the Belvidere tornado of 1967 to the history breaking COVID-19 pandemic that appeared in 2020 – Rockford Mutual remained stable with one purpose in mind; to help people.
It's More than a Policy, It's a Promise 
Our core values and mission as an organization boil down to one very simple motivation – to help those who need us most. Through the darkest of days and the toughest of storms, Rockford Mutual and our associates take pride in coming to work day after day. Insurance is much more than a policy, it is a promise to come through for the policyholders who are left in the wake of destruction.
People Are Our Purpose
Rockford Mutual is very proud to maintain a 97% Customer Satisfaction Rating. Our associates and the agents who represent us are the very reason we are able to accomplish this rating. To the policyholders, agents, associates and Farm Mutual partners who work with us – thank you for your belief in Rockford Mutual. Thank you for helping us reach 125 years of fruitful success. Thank you, for trusting in our purpose.
Real Testimonials from Real People