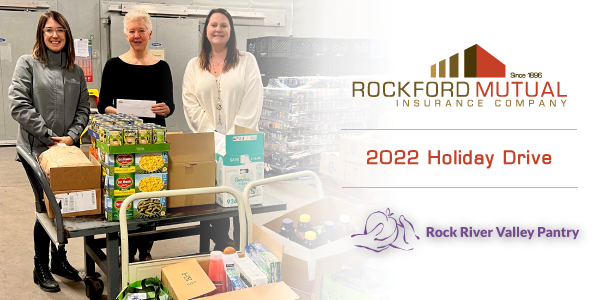 Rockford Mutual Insurance Company Donates Nearly 400 lbs. of Food to Rock River Valley Pantry
Rockford Mutual Insurance Company (RMIC) recently hosted an associate-sponsored fundraiser to benefit a local non-profit this holiday season, the Rock River Valley Pantry.
Rock River Valley Pantry (RRVP) is a 501(c)(3) non-profit organization that provides over one million pounds of food annually to the greater community of Rockford, Illinois. As of October, their client use has increased by 114% compared to last year! RRVP's mission is to fight hunger in the community by providing nutritious food to those in urgent need.
Rockford Mutual associates recently donated a variety of food items that RRVP most desperately needed, totaling nearly 400 lbs. of food! From pastas to canned goods to personal care items, RMIC's donation table was overflowing with generosity this holiday season.
"The holiday season is one of my favorites" said Kent Shantz, President & CEO of RMIC, "Every single year around this time, our associates impact a cause in need. With the current state of the economy, I could not be happier to see all of us come together to provide such a sizable donation to such an important organization fighting hunger in our community. We wish everyone a very Merry Christmas!"